Barangay Dance Company is a 25-member Filipino folk dance ensemble comprised of Filipino immigrants and Filipino-Americans dedicated to preserving the cultural heritage of the Philippines through the presentation and propagation of Philippine folk dances and music. Barangay's repertoire is a representative collection of regional dances from the Philippines' 7,100 islands, including dances from the mountain tribes of Northern Philippines to dances inspired by the Islamic culture of the South, from indigenous dance rituals to dances of Hispanic influence.
Since its inception in 1987, Barangay has actively represented the Filipino American community at numerous events including multicultural festivals such as the San Francisco Ethnic Dance Festival and Asian-American Tradewinds Series; community events like the Pistahan - Filipino American Arts Exposition at the Yerba Buena Gardens in San Francisco, Kababayan Festival at Marine World in Vallejo, Fil-Am Friendship Festival in Daly City, KTSF's Asian Heritage Celebration at Great America in Santa Clara, and Samahan Festival in Tanforan, San Bruno: and in schools, parishes, centers, and private functions throughout California and Nevada.
The company rehearses every Thursday evening at Corpus Christi Church in San Francisco.
To join, please contact info@barangay.org
Barangay Rondalla Ensemble
The newest program of Barangay is the Rondalla Ensemble. The first generation of rondalla players started seven years ago under the musical direction of Tomas Manuel, founding member of the Fil-Am Vets Rondalla in San Francisco, California.
In April 2011, Barangay started a new ensemble composed of 7 members learning the basics on how to play the various rondalla instruments - Bandurria, Octavina and Laud - using the music notations written and arranged by Tomas Manuel.
Currently, Barangay's Rondalla Ensemble is training with Herna Cruz-Louie, Executive Director and Co-Founder of the American Center of Philippine Arts (ACPA).

The goals of the ensemble are to become adept with their instruments, to accompany Barangay Company Dance in performances and to perform for various community and multicultural events.
Barangay Rondalla Ensemble practices every Sunday from 11 to 1 PM. If you are interested in joining, please contact info@barangay.org


Barangay Percussion Ensemble
Barangay members possess many talents. In addition to being talented dancers, some are skillful musicians who are also eager to express themselves in music by playing the percussive instruments that accompany some of the dances in Barangay's repertoire. These include the instruments that comprise the kulintang ensemble and instruments of the Philippine Cordillera.
Current members of Barangay's Percussion Ensemble initially learned to play the kulintang from taking classes with Master Danongan Kalanduyan at Skyline College and received further training from Robert Claro Lopez, former Music Coordinator of Bayanihan and current Music Director of Lahing Kayumanggi, in preparation for Barangay's "Kaugnayan" show in 2009.
Photo Album Gallery Place Holder - Please wait while the Photo Album loads. If the album does not show, please refresh the page to try again.
In addition to its extensive presenting program, Barangay Dance Company continues to offer free community workshops on Philippine dance, reaching out to Filipino Americans, many of whom have no prior training in dance.
Barangay's dance workshop introduces the participant to traditional Philippine dance techniques, styles and performance and includes lessons in Filipino culture, history and society as it pertains to Philippine folk dancing.
Barangay Dance Company's Philippine Dance Workshop is on the First Thursday of each month from 7 to 9 PM at Corpus Christi Church's Social Hall in San Francisco. Everyone is welcome to join!
For more information, please contact info@barangay.org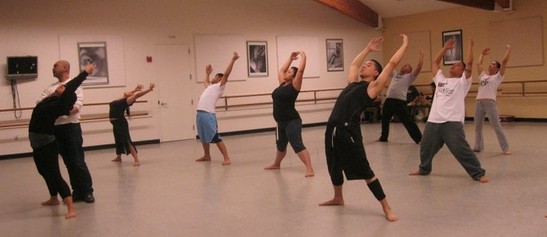 Under founder Bonifacio Valera's artistic direction, Barangay Dance Company continues to foster the development of Filipino folk dancing in the San Francisco Bay Area by continuing to present under-represented folk dances and insightful yet respectfully restaging of popular traditional dances of the Philippines. Bonifacio continues to research Philippine dance by regularly returning to the Philippines to attend the annual Philippine Folk Dance Workshops sponsored by the Philippine Folk Dance Society of the Philippines and consulting with leaders and experts in the field of Philippine folk dance, then sharing his experiences with the company.
In the past Bonifacio, along with Barangay Dance Company members, have attended folk dance workshops with the Bayanihan Philippine National Folk Dance Company, Ramon Obusan Folkloric Dance Group of the Philippines and Sining Kumintang ng Batangas. In August 2010 members of Barangay Dance Company attended the Philippine Dance Gathering and Workshops (PDGW) in San Diego hosted by PASACAT Philippine Performing Arts Company in San Diego and co-sponsored by Kayamanan Ng Lahi Philippine Folk Arts of Los Angeles.
Consequently, Barangay members and alumni share the knowledge and skills gained from Barangay's tutelage with their own communities, parishes, and school organizations either by performing, teaching, consulting, coordinating and/or producing cultural programs. Barangay Dance Company is proud to have been instrumental in the development of artists who are currently active in the Philippine dance scene today.
In order to fulfill its mission of preserving the folk culture of the Philippines for future generations, Barangay Dance Company continues to collaborate with other Filipino folk artists here and in the Philippines and build meaningful relationships with other Filipino American organizations that serve the community.

Barangay continues to work with local Bay Area artists by inviting them to its own productions: musicians like Haranistas De Manila and ACPA's Rondalla Ensemble; vocal artists like soprano Dina Reyes, tenor Leon Palad, and soprano Tracy Sarmiento; and choirs like St. Thomas More Church 8 PM Choir,

Parangal Choir

and Saringhimig Singers.
In summer 2009 Barangay Dance Company members worked with former Assistant Dance Director of Bayanihan and current choreographer of Sining Kumintang, Manrique Cabaya, and Robert Claro Lopez, former Music Coordinator of Bayanihan and Co-Founder and Music Director of Lahing Kayumanggi of Laguna, Philippines in preparation for "Kaugnayan" in October 2009. Within the last three years, Barangay has developed a fruitful partnership with the Kababayan Program at Skyline College leading to the birth of another bearer of Filipino folk dance traditions, the Kababayan Dance Troupe of Skyline College.
Currently, Barangay collaborates with the American Center of Philippine Arts and its Artistic Director/Co-Founder and former Assistant Dance Director of Bayanihan, Jay Loyola, who has since choreographed two dance pieces for Barangay Dance Company for the San Francisco Ethnic Dance Festival 2010 and 2011: respectively Pakidwa, based on a Pala'on wedding ritual, and Tausug, based on the indigenous Pangalay dance of Southern Philippines.
For more information on Barangay Dance Company's programs, please contact info@barangay.org
Lecture/demonstration with ACPA and Jay Layola at the San Francisco Main Library